Virginia Fusion Center

Cyber Intelligence Team
What is the Cyber Intelligence Team?
The Cyber Intelligence Team is a unit within the Virginia Fusion Center that serves the cyber community of the Commonwealth. We routinely evaluate malicious activity impacting Virginia governments, produce intelligence products to promote cybersecurity, and provide decision makers with key intelligence to make informed decisions about how to secure their cyberspace.
What Cyber Resources Does the Fusion Center Offer?
The Virginia Fusion Center offers threat intelligence, incident response resources, and shares information about training and other helpful tools:
Intelligence Products for Cyber Threat Awareness

Incident Response and Emergency Support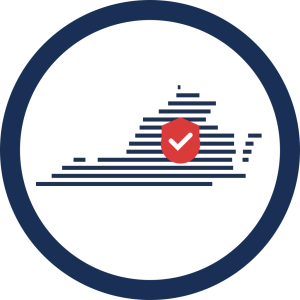 Reporting Cyber Incidents
In 2022, the General Assembly of the Commonwealth of Virginia voted to amend the Code of Virginia in a way that requires public bodies to report cyber incidents to the Virginia Fusion Center. Public bodies include executive, legislative, and judicial entities, as well as authorities, boards, committees,  commissions, and political subdivisions such as cities, towns, etc. The full text of HB1290 is available here.
The Virginia Fusion Center relies, in part, on reports from public and private entities to remain informed of threats that may impact the Commonwealth. HB1290 will increase the flow of information through the Virginia Fusion Center, allowing the Cyber Intelligence Team to assess information with greater accuracy support our goal to provide the Commonwealth with accurate, relevant, and timely information.
If you have questions about the Commonwealth's new mandatory reporting requirements, you may find more information on our incident reporting website.
"C. Every public body shall report all (i) known incidents that threaten the security of the Commonwealth's data or communications or result in exposure of data protected by federal or state laws and (ii) other incidents compromising the security of the public body's information technology systems with the potential to cause major disruption to normal activities of the public body or other public bodies. Such reports shall be made to the Virginia Fusion Intelligence Center within 24 hours from when the incident was discovered. The Virginia Fusion Intelligence Center shall share such reports with the Chief Information Officer, as described in § 2.2-2005, or his designee at the Virginia Information Technologies Agency, promptly upon receipt.

Commonwealth of Virginia Code §2.2-5514

Mandatory Reporting Requirements - Effective 1JUL2022
Statewide Incident Response
The Virginia Fusion Center is proud to provide incident analysis and resource coordination throughout the Commonwealth of Virginia. We work alongside several state and federal authorities to provide effective resolution for all reported incidents.
Questions about Incident Response?
If you have any questions about the incident response process, please start by reading our FAQs and Locality Engagement Guide. If your questions still haven't been answered, please click the button below!

No Available Training
We will post our trainings to this page as soon as we have an update.
Please continue to check it so you can be the first to know.
Frequently Asked Questions
Which partners work with the Virginia Fusion Center?

We also maintain healthy relationships with private partners, such as cybersecurity insurance providers, within the Commonwealth.
Who can request Incident Response Assistance?

The VFC works to provide resources to State, Local, Territorial, Tribal, Critical Infrastructure, and Private entities within the geographical borders of the Commonwealth of Virginia.
Does it cost money?

Incident response is a part of our mission and is provided at no cost; however, third party vendors and services may require additional funding.
How do I contact the Virginia Fusion Center Cyber Intelligence Team?

If you are seeking urgent contact for an incident, please click the "Report an Incident" button at the top of the page. Otherwise,  you may reach the CIT by emailing vfc@vfc.vsp.virginia.gov regarding your request.