Virginia Fusion Center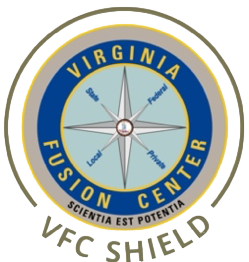 VFC Shield
"Awareness Through Information Sharing"
VFC Shield was established to increase community awareness of criminal and terrorism trends and incidents within the Commonwealth, United States and across the world.  The VFC Shield motto is "awareness through information sharing".  Information sharing  increases preparedness, mitigation and prevention efforts which makes our communities safer.  In addition, VFC Shield connects members with available resources and sector specific content.
The VFC Shield program is intended for both the public and private sectors, as well as civic & local community groups.
VFC Shield is a completely FREE outreach program.
Text 'Join" to 804-796-0770
HOW DOES IT WORK?
Once signed up, members can expect to receive regular emails from VFC Shield.  Email communications will generally fall into one of three categories All Sector Bulletins, Alert Follow-ups and  Sector Specific Bulletins.
All information made available through the VFC Shield program is unclassified and is derived through open sources. Redistribution is highly encouraged.
Alerts are timely SMS based notifications of a significant security or terrorism related event within United States.  There are often multiple messages for each incident, as information becomes available and situations evolve.  
Below is an example of what an Alert message would look like.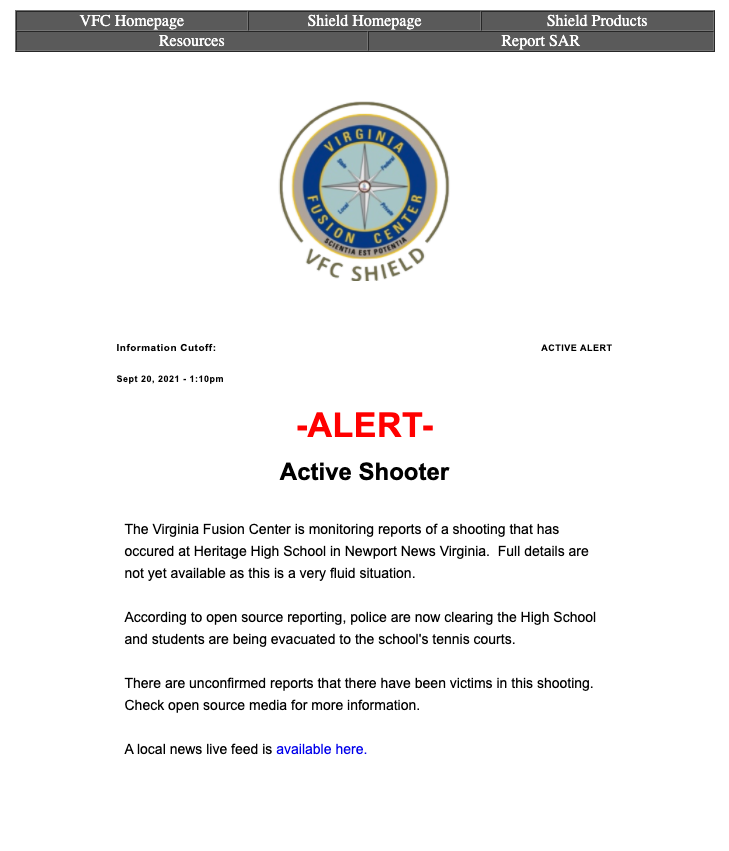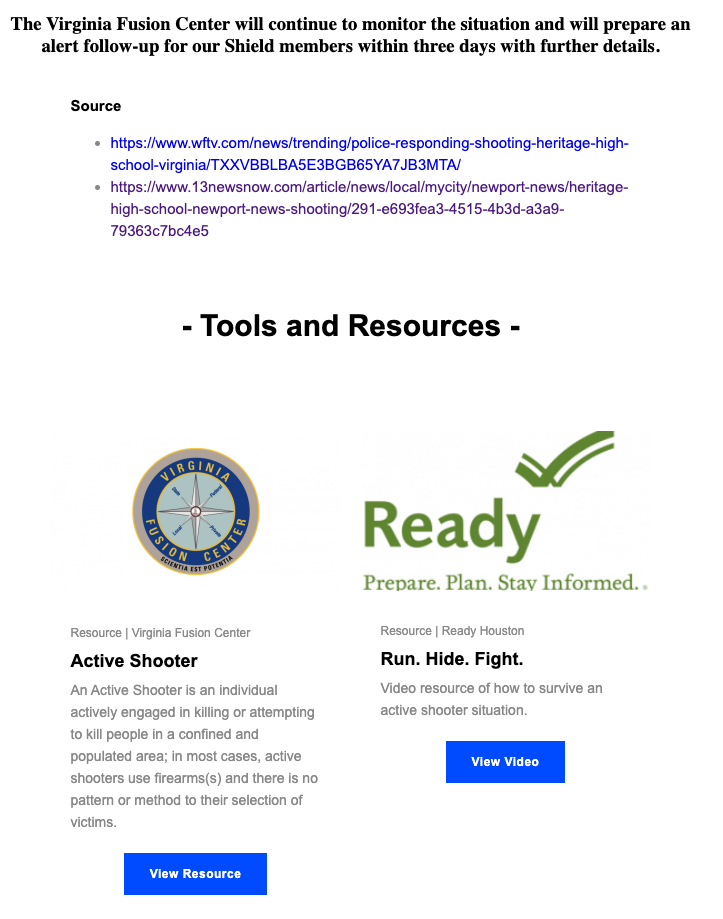 All Sectors Bulletins Example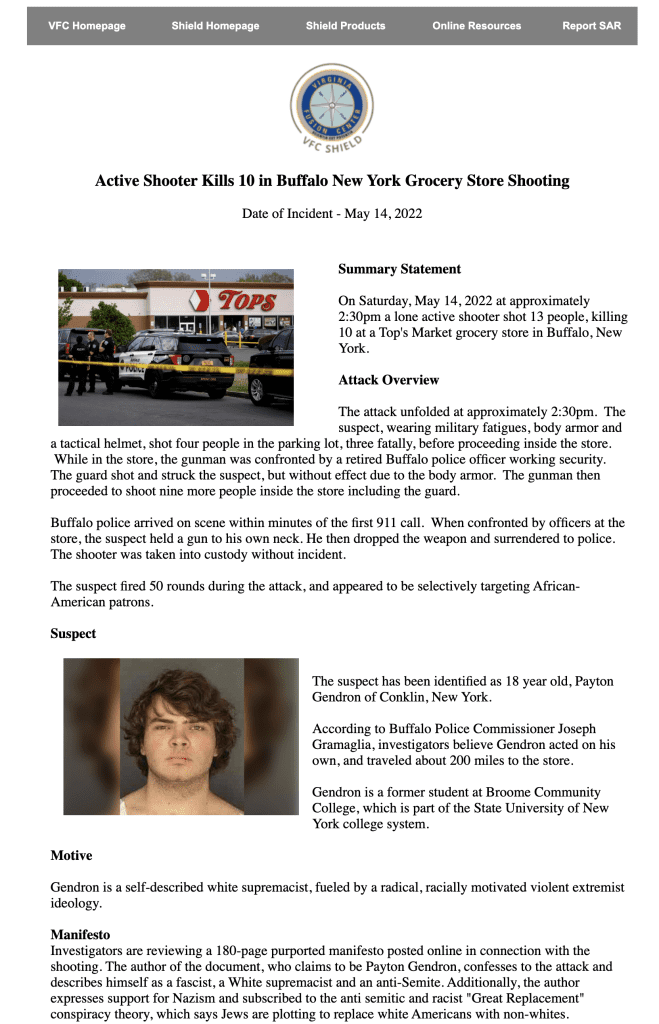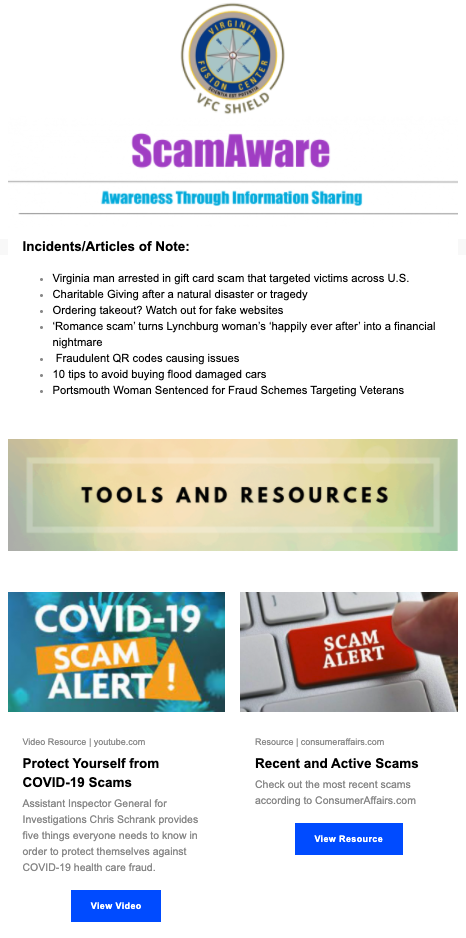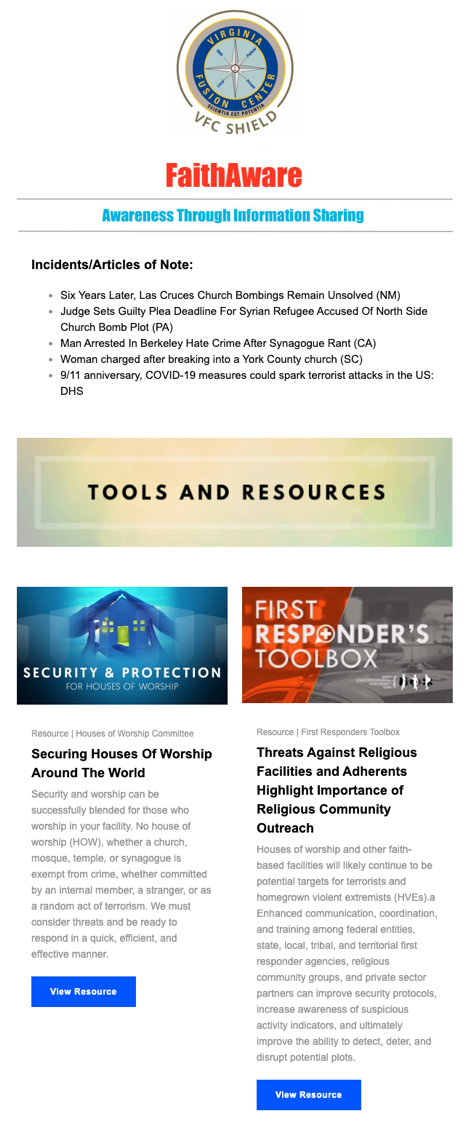 Shield Products and Offerings
Who is eligible to join VFC SHIELD?
Although VFC Shield is open to all, there are specific groups and sectors which may find the program particularly beneficial.  This includes both the public and private sectors, as well as community organizations.
First Responder and Emergency Services
Faith-Based Community Members
Cyber Professionals
Healthcare Professionals
Education Professionals
Security and Critical Infrastructure Sector
Military Members
Business Owners
Any community member who wishes to be well informed.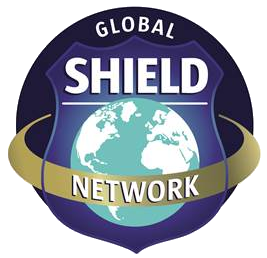 VFC Shield is a member of the Global Shield Network, which connects Shield programs from all over the world.  The Shield concept was started by the New York City Police Department and quickly grew to be adopted nationally and internationally. The Global Shield Network results in unprecedented information sharing and resource collaboration.