Virginia Fusion Center
Resources 
Package bombs, which include letters, parcels, and anything delivered by postal or courier service, are not a new technique and have been used by terrorists and anarchist groups. Many of these bombs are triggered when victims handle or open the packages, although they can be initiated in other ways.
Package bombs come in a variety of shapes and sizes, and they may look harmless. There are a number of characteristics that may lead you to become suspicious of a letter or package.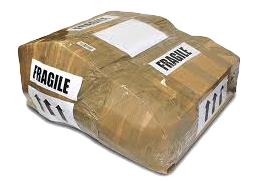 Receiving Suspect Packages
Remain calm.
Do not open the package or letter.
Do not shake or empty the contents of a suspicious package or envelope.
Do not carry the package or envelope, show it to others or allow others to examine it.
Put the package or envelope on a stable surface; do not sniff, touch, taste, or look closely at it or any contents that may have spilled.
Do not touch your eyes, nose or other body parts.
Shut off window air conditioning units and fans.
Isolate the package and secure the room by shutting all doors and windows.
Thoroughly wash hands with soap and water.
If in or near a federal facility, contact the Federal Protective Service by calling 1-877-4FPS-411.
Report to supervisor and call 911.
Advise fellow co-workers to avoid the area.
Don't leave the area until told to by responding officers.
Ensure that all persons who have touched the letter wash their hands with soap and water.
Make a list of all persons who touched the letter or package and who were in the area when the letter was opened.
After examination of package, shower with soap and water.
Features of Suspect Mail
Excessive postage, no postage, or non-canceled postage
No return address or fictitious return address
Improper spelling of names, titles or locations
Unexpected envelopes from foreign countries
Suspicious or threatening messages written on packages
Postmark with different location than return address
Distorted handwriting or cut-and-paste lettering
Unprofessionally wrapped packages or excessive use of tape, strings, or other wrapping
Packages marked "Fragile: Handle with Care," "Rush: Do Not Delay," "Personal" or "Confidential"
Rigid, uneven, irregular, or lopsided packages
Packages discolored, oily or with an unusual odor
Packages with soft spots, bulges, or excessive weight
Protruding wires or aluminum foil
Suspicious Mail & Packages
State of Arizona Training Resource
A basic guide to help maximize safety and minimize disruption when encountering suspicious mail and packages in the workplace.
POSTAL AND SHIPPING: IDENTIFICATION AND MITIGATION OF SUSPICIOUS MAIL AND PACKAGES
First Responders Toolbox
This product is intended for those who might be required to handle mail and packages in the course of their work in order to promote awareness and coordination among public safety and private sector entities, and to improve their ability to identify, report, and mitigate the effects of suspicious mail and packages. For specific suspicious package indicator information, refer to the products in the Resources section. None of the information in this document is intended to replace existing standard operating procedures or policies. This product was developed in coordination with the US Postal Service and postal/shipping private sector partners