Virginia Fusion Center

VFC SHIELD PORTAL

Event Type
Active Shooter Incident
Event Location
Lewistown, Maine
UPDATE – information cut-off – Thursday, October 26, 2023 | 10:10hrs
Law Enforcement in Maine continue to search for a person of interest in the active shooting incidents at Schemengees Bar and Grille Restaurant and Sparetime Recreation. A vehicle, believed to belong to the person of interest, was discovered in Lisbon, Maine. Individuals in Lisbon have been asked to shelter in place. All town offices in Lisbon are closed on Thursday.
Lewiston Public Schools have cancelled classes for Thursday. A reunification center has been established at Auburn Middle School in Auburn, Maine.
Unconfirmed Open Source information indicates as many as 22 deceased and an additional 30 people injured. Law Enforcement has yet to confirm the number killed or injured since the situation remains "very fluid."
The Virginia Fusion Center will continue to monitor and update this developing situation
——————-
Information cut-off – Wed , October 25, 2023 | 20:30 hrs
The Virginia Fusion Center is aware and monitoring the reports of an active shooter incident in Lewiston, Maine.
According to open-source media, there has been multiple active shooter incidents at different locations possibly by the same suspect.  Multiple injuries and possibly fatalities have been reported at these various locations. The shooter is described as a white male wearing a brown shirt armed with a rifle.  Multiple law enforcement agencies are on scene at all locations.
Maine State Police ask residents to shelter in place and lock doors due to ongoing active situation.
This alert is for awareness purposes only and is based on open-source information. The Virginia Fusion Center has received no threats of violence related to this incident.  Check open source media for further details.
VFC Shield will produce an alert follow-up in the coming days on this incident.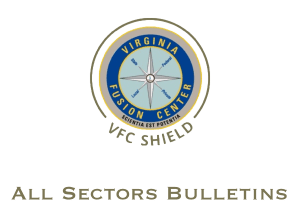 Recent All Sectors Bulletins
Below are the most recent All Sectors Bulletins sent out.  Please click here for a comprehensive list.
FaithAware
FaithAware – Sept 2023 – 1 of 1

CyberAware
CyberAware – Sept 2023 – 1 of 1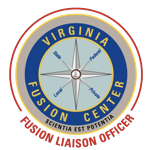 No pending classes.
Sign for class alerts below.